Thanks for stopping by! Want to grow your practice? Here are 5 marketing ideas to get you started. For more tips, resources, and ideas check out my blog.
1. Have an Engaging and Beautiful Website
A lot of people think of a website as an online brochure - it just sits there like a rock. But websites are living, breathing, and dynamic tools that are meant to grow, change, and interact with people. Think of it as an extension of you. It should represent who you are today and actively communicate with your (potential) clients. What do you want them to know about you? What do you want them to do when they get to your website? Contacting a therapist for the first time - especially if you've never been to therapy before - can be downright terrifying. So it's important to make the process feel safe, inviting, and easy. 
2. Blog, blog, and blog some more!
Like I said before, websites are meant to change and grow. Blogging is a great way to keep your website visitors engaged, showcase who you are and your expertise, and improve your SEO. (You might be wondering, WHAT THE HECK IS "SEO"? See tip number 3.) Research shows that a potential client will visit a therapist's website (or Facebook page, Psychology Today profile, Instagram account, etc.) about 10 times before deciding to make first contact. Blogging will keep them coming back to your website, so they can feel like they know you before they even walk in the door. Just like when you're in session, your online presence should be about building trust and a relationship.
3. Improve your SEO
SEO stands for Search Engine Optimization. What this means is when someone searches for you (or for a therapist in general) online using a search engine (most likely Google), that your website will be at the top of the list of results. People will rarely go to the second page of search results, so you want to make sure you're on the first page! 
There are a number of ways to improve your SEO ranking including:
Making sure your website is mobile-friendly

Having original, relevant content

Blogging and regularly updating content - being an "educator" is a must!

Fast loading pages - a slow loading site can hurt your ranking

Including "inbound" links to other pages on your site and "outbound links" to other websites

Listing your practice on Google Business

Getting high reviews on your Google Business from colleagues and professionals (keep in mind that these reviews are public, and for privacy reasons, don't ask for reviews from patients)

And so much more! If you're an ambitious DIY-er and want to tackle this beast yourself, check out

Google's SEO Starter Guide
4. Become Friends with Social Media
Oh, social media. Talk about a love-hate relationship. It's constantly changing, time consuming, frustrating, fun, and a great way to build an online community! It's a fantastic way to connect to potential clients so they can get a feel for who you are and start to trust you before they pick up the phone and schedule an appointment. But selling therapy is a totally different ballgame from other industries. Committing to therapy isn't an impulsive or rash decision. Convincing someone to allow themselves to be completely vulnerable with a total stranger takes time, so when you start promoting your services online and on social media, you have to build trust before you start selling. When you pay for ads, start by promoting blog posts, videos of yourself giving advice, and free educational or helpful materials. Once you start to build a following of people who now trust you, you can use helpful tools (like Facebook pixel) to advertise your services to the people who already know you. Just make sure you know the rules and policies of advertising with Facebook before you jump in.
5. Outsource So You Can Focus on Helping People
OK, this tip may seem like shameless self-promotion on my part, but it's important to get support and outside help so you can focus on your business of helping people. Creating an effective website, marketing, writing, and just figuring out the ever-changing landscape of social media can be very time consuming and exhausting. And let's face it, talking about yourself and selling yourself is hard! You became a therapist to help people, so let me help you do that by selling you and your services for you.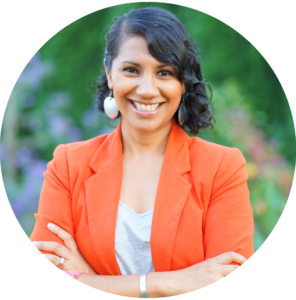 I'm Misha Conaway, Founder and President of HYHO Marketing & Design. I'm a graphic designer and content marketer who has been helping psychotherapists and mental health professionals get new clients for over 5 years. Through marketing, we can reduce the stigma surrounding mental health counseling and help people get access to the care and support they need.
HYHO Marketing & Design offers:
If you're ready to grow your practice and need support so you don't have to do it all yourself, I'd love to hear from you! Plus, if you mention that you heard my interview on the Private Practice Startup podcast, you'll get $50 off a new website*. Click the button below and let's talk.
* Offer valid for new clients only and cannot be used for any other product or service. All prices are subject to change. Terms and conditions apply.